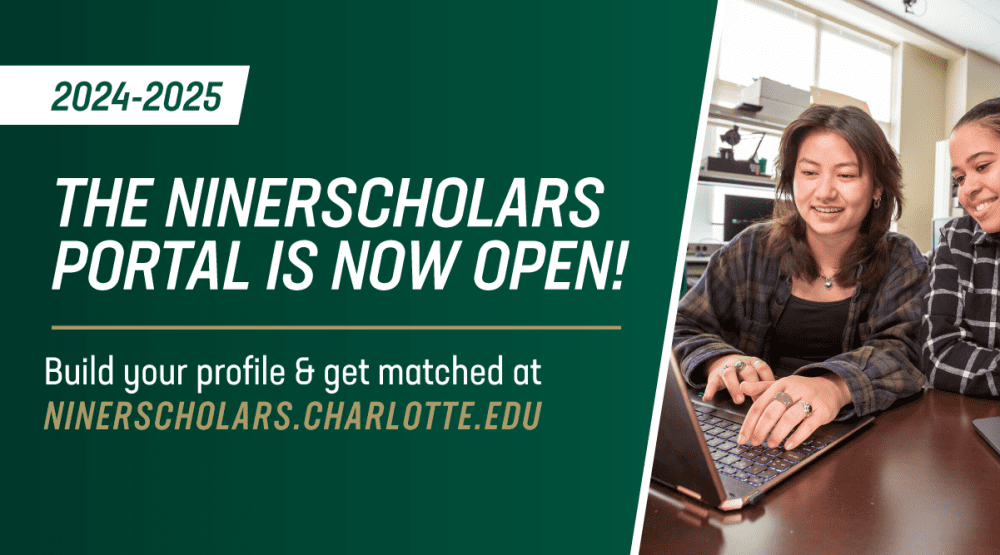 Announcements
The 2024-2025 application cycle is now open!
Status of scholarships applied for can be found in the NinerScholars Portal, typically within approximately 45 days of the application deadline.
Scholarship offers can be accepted there as well!
View our FAQs to prepare for the scholarship opening.
Important Dates
Late Oct.: NinerScholars portal opens for applications for the next academic year.
Feb. 15: First-year only scholarship applications due.
Apr. 1: First-year, continuing and non-traditional student applications due.
Jul. 30: Transfer and reentry student scholarship applications due.
April-May: Most scholarships for the next academic year are awarded.
Learn more about our timelines, including dates and deadlines here.
Contact Us

Office Hours: 8 a.m. – 5 p.m. EST, Monday – Friday

Phone: 704-687-5871

Email: scholarships@charlotte.edu

Mailing Address:

UNC Charlotte – University Scholarship Office

346 Cone Center

9201 University City Blvd.

Charlotte, NC 28223-0001

*Please include your student ID number in emails or voice messages to us.